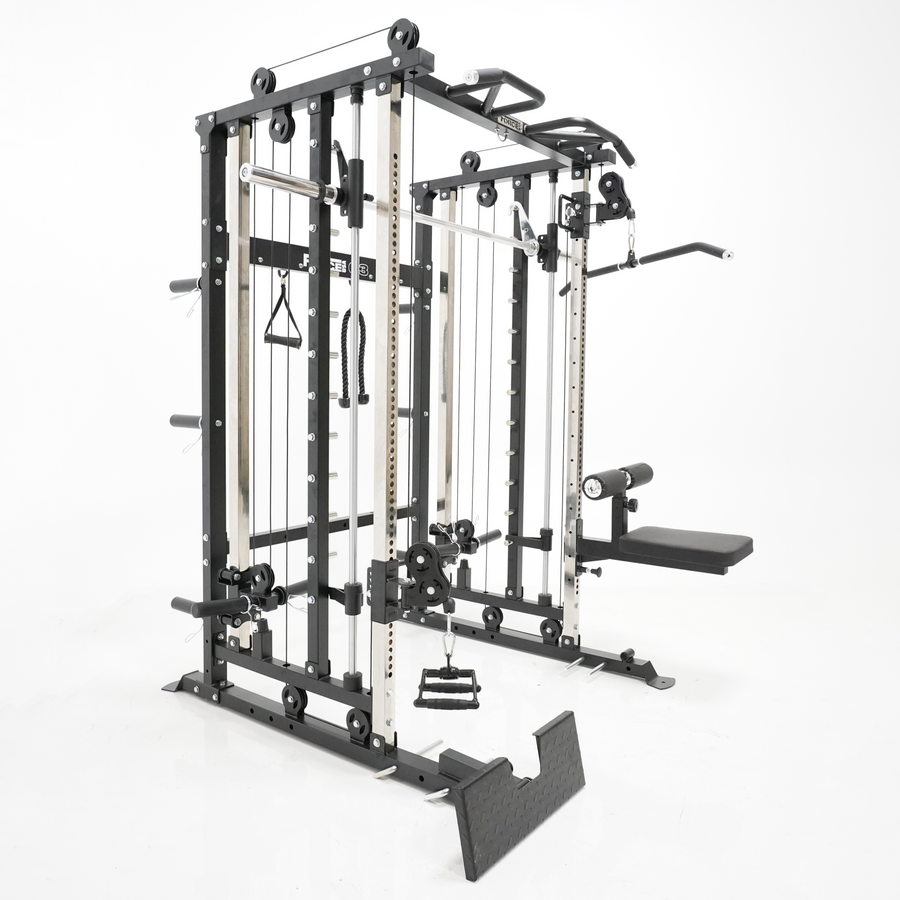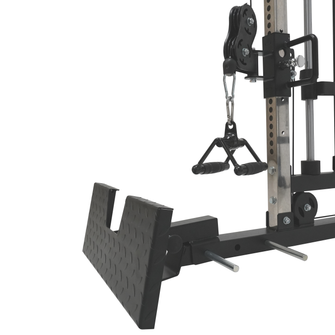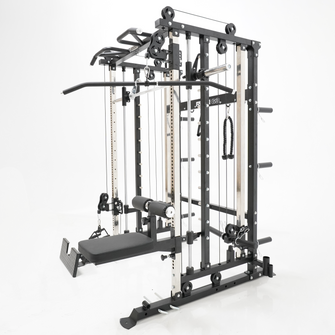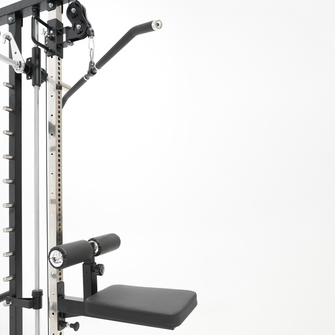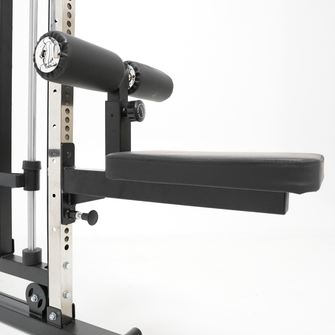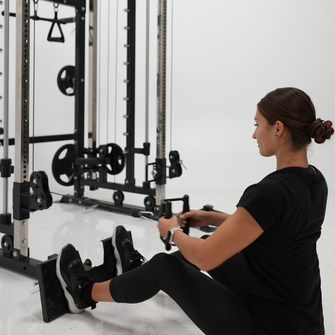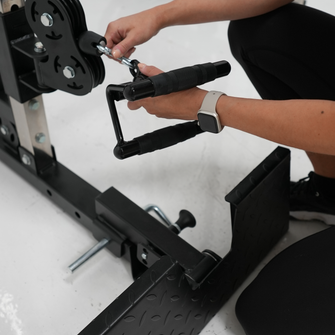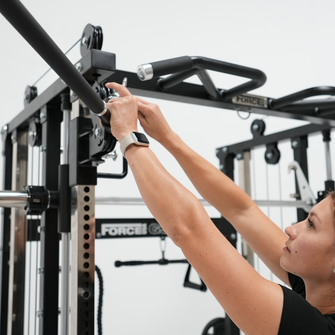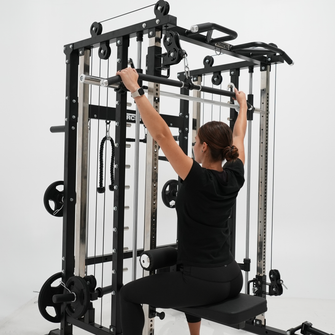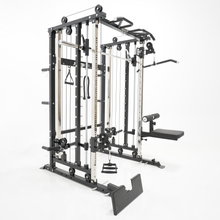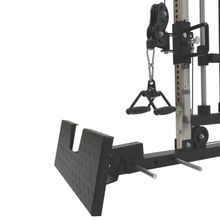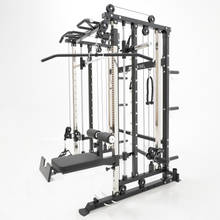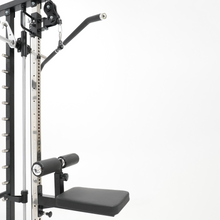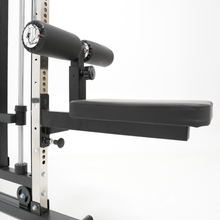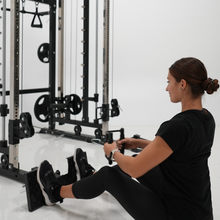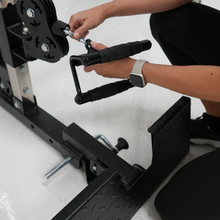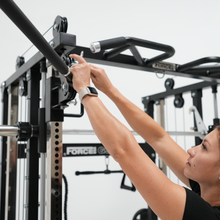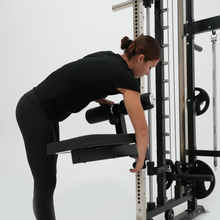 Force USA G3 All-In-One Trainer + 2023 Upgrade Kit
The Force USA G3 provides unparalleled versatility in a compact space. Combines a power rack, functional trainer, smith machine, chin up station, and core trainer into one compact multi-station machine! Satisfy your strength training goals in the privacy of your own home with the Force USA Monster G3. Force USA...
The Force USA G3 provides unparalleled versatility in a compact space. Combines a power rack, functional trainer, smith machine, chin up station, and core trainer into one compact multi-station machine! Satisfy your strength training goals in the privacy of your own home with the Force USA Monster G3.
Force USA G3 All-in-One Trainer - Power Rack, Functional Trainer & Smith Machine Combo
The all-new for 2019 Force USA G3 combines a power rack, smith machine, and a cable pulley system into an all-in-one compact strength-training machine.
If you're fed up with the crowds at your commercial gym, it's time to start your own garage gym at home. Cancel your gym membership completely without worrying about sacrificing equipment accessibility or functionality.
You have nothing to lose and everything to gain. You'll have the ability to perform all the same effective exercises you were doing in a commercial gym while keeping the flexibility to switch your training style regularly to follow your evolving fitness goals while at home.
THE FORCE USA G3 ALL-IN-ONE TRAINER IS IDEAL FOR WHEN:
Workout space is limited
You want an all-in-one solution
You want the ultimate home gym!
You want tons of workout possibilities
Why Buy the Force USA G3 All-in-One Trainer?
The Force USA G3 All-in-One Trainer provides unparalleled versatility in a compact space! The space-saving Monster G3 will also help you get rid of the clutter in your workout room so you can do all of your workout exercises in one contained, organized, and safe area.
No more jumping from one machine to the next to do your bench presses, squats, free weight exercises or core training that are spread across your workout room. They're now all combined into one convenient strength training system.
Its Five Machines in One! Our customers said they wanted an all-in-one machine that combined all of the benefits of a Power Rack, Functional Trainer, Smith Machine, Chin Up Bar, and Core Trainer.
That's why we created the Force USA G3 All-in-One Trainer!
POWER RACK

The steel Power Rack component includes commercial grade J-Hooks and Safeties which can be adjusted using Westside hole spacing to any height position you need. Features Westside spacing with 50 different numbered adjustment points to perfectly position any size user for bench press, squats and more.

FUNCTIONAL TRAINER

The Functional Trainer component allows you to perform over 75 different exercises. Features adjustable height positions to perform shoulder, arms, chest, back, core and leg exercises.

SMITH MACHINE

The Smith Machine component is angled for natural body movement to provide a strong and safe workout. Re-rack your Smith bar with ease into any height position you need. The Smith Machine only uses Olympic sized plates.

CHIN UP STATION

Ergonomically designed multi-grip chin up and pull up station with a massive 771 lbs. weight rating. Accommodates Classic Grip, Hammer Grip, Wide Grip, Narrow Grip, and Pronated Grip.

CORE TRAINER

Includes an attached landmine station that is suited for all types of rotational torso training and allows for a wide range of upper body training when using an optional barbell (Sold Separately).

Rather than purchasing these all separately, save thousands of dollars and fit them all into a third of the floor space with the Monster G3!
Force USA G3 All-in-One Trainer Features:
KEY FEATURES
A COMPLETE 5-IN-1 HOME GYM

The Force USA® G3® All-In-One Trainer has all of your strength and fitness needs covered. Delivering incredible versatility and performance, you can complete a massive number of exercises across the five unique workout stations in one small footprint.

Stop wasting time waiting for equipment at your local gym and step up to the G3® to create the perfect session flow!

VARIETY OF CABLE EXERCISES

The enhanced G3® provides you with the flexibility and independence to create your Functional Trainer workouts, equipped with a range of features.

2:1 Cable ratio for enhanced versatility
4-Roller design for seamless movement
Impressive weight capacity of 320kg (706lbs)
21 adjustable positions for the north/south cable slider
Cables with a generous 2.5m (8.2ft) extension

Discover the multitude of functional exercises available, such as Low to High / High to Low Cable Chest Fly, Cable Chest/Shoulder Press, Cable Upright/Low Row, and room to add Walking Cable Lunges, Cable Sled Pulls, and Cable Squat Walks.

YOUR LEGENDARY SMITH MACHINE

Angled for natural body movement, the Smith Machine on the G3® is incredibly smooth, strong (350kg/770lbs weight rating) and perfect for compound movements so you can push yourself to the limit on shoulder and chest presses, calf raises and glute building movements.

ENHANCED MULTI-GRIP CHIN UP STATION

The updated 32mm multi-grip knurled chin up bar offers 5 distinct grip positions to target various muscle groups effectively. With options for wide-grip, close grip, underhand, and overhand grips, you can engage a wide array of upper body muscles and maximise your workout potential.

HUGE RANGE OF INCLUDED ATTACHMENTS

Force USA has made sure to add a wide variety of training aids so every session is different. Tough commercial quality cable attachments include a Long Straight Bar, Short Straight Bar, Nylon Handles, Tricep Rope, A Bar Row Handle, Landmine Core Trainer and more!

ENSURED SAFETY IN EVERY WORKOUT SESSION

Reach new levels of performance with complete peace of mind. Our upgraded Force USA® G3® All-In-One Trainer prioritises your safety at every step, ensuring a risk-free training experience like no other. Equipped with a comprehensive range of safety features, this exceptional trainer guarantees your confidence, no matter the intensity or weight of your exercises.With the inclusion of Front Safeties, J-Hooks, Spring Loaded Depth Adjustment, Lock-Out Pegs, and Smart Safe Locks, we leave no stone unturned in providing you with unrivaled protection

EASILY STORE YOUR WEIGHTS AND ATTACHMENTS

To keep your workout space safe and organised, the Force USA® G3® All-In-One Trainer comes with 6 x Weight Plate Storage holders, 4 x Storage Hook Attachments plus room for a Standard/Olympic sized barbell.

SIMPLE, FAST ASSEMBLY

With an average assembly time of just 2-3 hours, you'll be ready to train in no time. Force USA provides user-friendly instructions, eliminating the need for a costly professional technician.

For added stability, the unit features floor bolting holes, allowing you to securely anchor it to the ground. Enjoy the convenience of a straightforward assembly process and the peace of mind that comes with a stable training setup.

EXPAND YOUR OPTIONS WITH AN UPGRADE KIT

Enhance the number of exercises you can do by adding the G3 Upgrade Kit or the compatible G20 Upgrade Kit.

The G3 Upgrade Kit features a Lat Seat and Lat Bar for Lat Pulldowns, along with a Low Row Foot Plate and Close Grip Triangle. For an even more comprehensive upgrade, the G20 Upgrade Kit offers Jammer Arms for Presses, Rows, and Squats with your Power Rack, alongside a Leg Extension/Curl Attachment and Dip Bars.
Training Options:
Strength
Power
Bodybuilding
Muscular endurance
Glycolytic efficiency
Concentric or eccentric (Negative) training
Compound or isolation
Plyometric
Slow twitch or fast twitch fibers training
Dimensions:
Assembled: 80" (W) x 55" (D) x 87" (H)
Pulley Ratio:
2:1- with 100 lbs loaded, resistance is 50 lbs
Weight Rating:
Unit = 992 lbs.
Smith = 772 lbs.
Cables = 2,000 lbs.
In the Box:
Multigrip Chin Up Bar
Landmine Attachment
J-Hooks
Safety Spotter Arms
Land Mine + Handle
Cambered Bar
Straight Bar
Multi-Grip Chin Up Bar
Small Grip Frame Bar
V-Type Handle
Nylon Stirrup Handles
Ankle Strap
Tricep Pull-Down rope
4 x Band Pegs
6 x Weight Plate Storage
12 x Olympic Weight Spring Clips
12 x Standard Weight Spring Clips
Attachment Storage Holders
Weight Plate Storage Holders
Bar Storage Holders
Optional Attachments:
The Monster G3 also has exclusive optional attachments (sold separately) that extend the versatility even further!
Leg Press
Stability Bar
Chin Up Bar
Lat Pull Down Seat
Dip Handle - COMING SOON